The 10-episode series, created by Ryan Murphy and Ian Brennan, received a total of 13 Emmy Award nominations. Among those to receive nods were actor Evan Peters, who portrayed the titular serial killer, and Niecy Nash-Betts, who played his neighbor, Glenda Cleveland. The show was also nominated for Outstanding Limited or Anthology series.
One person who wasn't supportive of the Emmys recognition, however, was Thomas M. Jacobson, a retired attorney who represented some of the real-life Dahmer's victims.
In a statement issued to People, Jacobson blasted the nominations, noting: "Awarding Emmys to shows like the Jeffrey Dahmer series contributes to glamorizing or desensitizing violence and crime in society."
"The 13 Emmy Nominations and continued pomp and circumstance surrounding the Dahmer series glorify and romanticizes the monster's actions and motivations resulting in further trauma for the victims' families," added Jacobson, who represented the families of eight out of 17 people who were murdered by Dahmer.
He went on to single out Murphy for allegedly not getting the consent of the victims' families before creating the show, thus having "further exploited and exacerbated the emotional burden they already carry."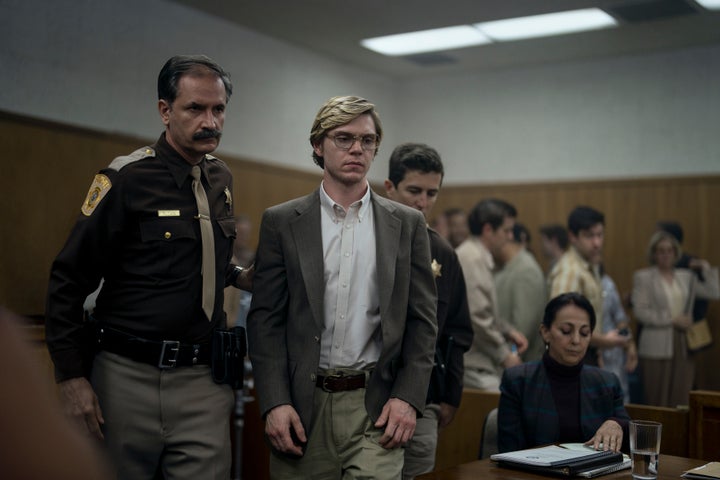 The Wisconsin-born Dahmer, alternately known as the "Milwaukee Cannibal" and the "Milwaukee Monster," murdered and dismembered 17 men and boys from 1978 to 1991. He also committed necrophilia and cannibalism on several of his victims, many of whom were people of color and some underage.
Convicted of 16 murders, Dahmer died in 1994 at age 34 after being beaten by Christopher Scaver, a fellow inmate at Wisconsin's Columbia Correctional Institution.
"Dahmer ― Monster: The Jeffrey Dahmer Story" premiered last fall to mostly positive reviews. Still, the series sparked controversy when relatives of the victims publicly objected to the way their loved ones were portrayed on-screen and said Murphy and his team had neglected to ask for their consent prior to beginning work on the show.
For his part, Murphy has refuted those claims, telling Variety he reached out to around 20 families during his research but never heard back.
In recent weeks, Murphy ― whose credits also include "Glee" and "Pose," among other shows ― has faced criticism in recent weeks for his decision to continue production on "American Horror Story" amid the Writers Guild of America strike, which began in May.
The forthcoming 12th season of the horror anthology series will be titled "Delicate," and is set to star Kim Kardashian and Emma Roberts. Members of the Writers Guild of America picketed outside New York's Silvercup Studios, where much of "Delicate" is being filmed, last week.
"We're not here in protest of Ryan Murphy, the guy," Josh Gondelman, a member of WGA East's leadership, told The New York Times. "We're here in protest of production happening without writers and while writers are on strike."