The Supreme Court has upended the legal landscape on issues ranging from abortion to religious expression to administrative law ever since conservatives seized a six-vote supermajority following the death of Justice Ruth Bader Ginsburg.
The court's reversal and rewriting of precedent has sown confusion for state-level lawmakers trying to craft legislation in response to the needs of their constituents. In few areas has the conservative court's agenda caused more chaos than in gun law.
In June 2022, the court ruled in a 6-3 decision in New York State Rifle & Pistol Association v. Bruen that New York's law governing the issuance of concealed carry permits was unconstitutional. In doing so, the court's conservative justices, led by Justice Clarence Thomas, put forward a new standard that requires restrictions on gun ownership to be judged constitutional only if they are "consistent with this Nation's historical tradition of firearm regulation" in the 18th and 19th centuries — long before the development of modern guns.
The new historical test has produced a chaotic stream of lower court decisions as the judiciary tries to apply the standards of previous centuries to the laws of a modern world. In the past year, rulings have struck down bans on assault weapons, bans on gun-carrying in sensitive places, bans on gun ownership for people under 21 and, in the most egregious case, restrictions on gun ownership for persons under domestic violence protective orders.
For state legislators trying to respond to constituents' concerns about rising rates of gun violence and mass shootings, this historical test — and the subjective manner in which judges deploy it — makes it difficult to determine which laws are constitutional and which ones are not.
"No one really knows the direction of the Supreme Court rulings around firearm laws after the Bruen decision," said Bob Morgan, a Democratic state representative in Illinois.
Morgan is well aware of the precarious state of gun law at the moment. He was the chief sponsor of legislation signed into law by Gov. J.B. Pritzker, a Democrat, in January, banning the sale of semi-automatic long guns (colloquially called "assault rifles") and high-capacity magazines.
Gun rights groups quickly filed suit to block the law's implementation, and the legal back-and-forth indicates the uncertainty around gun legislation: One federal district court judge declined to block the law, while another one issued an injunction to block it. The 7th U.S. Circuit Court of Appeals overrode the injunction, allowing the law to go into effect while it hears the case. The Supreme Court declined to get involved, and the appeals court decision stands until a final ruling.
"The standard that the Bruen decision provided doesn't provide a lot of clarity," Morgan said.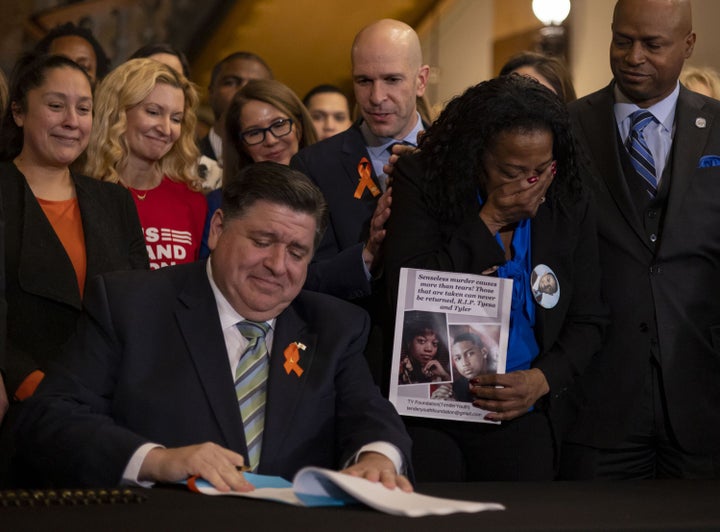 While state lawmakers are still passing new gun restrictions into law, they are doing so without any clarity on whether those laws will be allowed to stand if challenged, or how long courts may take to rule on their constitutionality.
In Vermont, the Democrat-controlled state legislature recently passed a new gun law imposing a 72-hour waiting period prior to a gun purchase and calling for the safe storage of firearms in homes with children in response to the state's rising gun suicide rate. But Democrats pared back the final version of the bill, removing a provision barring those under 21 from purchasing a firearm, due to concerns about the new Bruen standard.
"The political reality is that there is a hesitancy to take up the bolder policy that we need because of the impact of this question mark that the Supreme Court has created," said Emma Mulvaney-Stanak, a Democratic state representative. She added, "We would have done more in Vermont if we were not facing this guessing game."
That guessing game will continue across the country until the Supreme Court clarifies which gun laws and historical analogs are appropriate under its newly interpreted Second Amendment rights.
One of the reasons it is so unclear which limits on gun ownership are allowed is because the six conservative justices themselves seem split. Thomas' majority opinion provided an extremely broad grant to courts to strike down gun laws. However, Justice Brett Kavanaugh wrote a concurrence, joined by Chief Justice John Roberts, that reaffirmed the court's precedent that the individual right to own firearms was "neither a regulatory straightjacket nor a regulatory blank check."
According to Kavanaugh, the kind of policies that could be constitutional, while not "exhaustive," included restrictions on the "possession of firearms by felons and the mentally ill, or laws forbidding the carrying of firearms in sensitive places such as schools and government buildings, or laws imposing conditions and qualifications on the commercial sale of arms."
"There are some really clear avenues and areas where lawmaking is fully consistent with the Second Amendment," David Pucino, deputy chief counsel for the Giffords Law Center to Prevent Gun Violence, said of restrictions on gun ownership.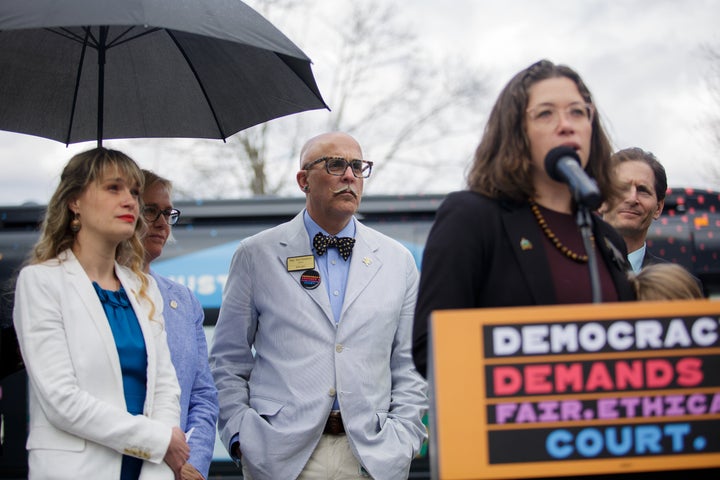 While federal courts are striking down many gun laws under the Bruen standard, they are upholding a number of others. One district court in Illinois upheld the law banning the sale of assault rifles. A separate appellate court upheld a similar ban in California. A federal court in West Virginia upheld a mental-health-based ban on gun purchases. A federal appeals court in Florida upheld the state's post-Parkland ban on sales of firearms to people under 21.
But compounding legislators' uncertainty is that some of these very laws have also been struck down by other federal courts using the same test. One fix to this would be for the Supreme Court to weigh in and provide that clarity via a new case.
That may come soon in Rahimi v. U.S., in which the 5th U.S. Circuit Court of Appeals ruled it was unconstitutional to prohibit gun ownership for people under domestic violence restraining orders. The Department of Justice appealed the court's decision to the Supreme Court in expedited fashion on March 17, calling for the high court to take up the case before it recesses in mid-summer.
"Rahimi really is the case that the court needs to take up and clarify because it is really an extreme and, I think, totally erroneous application of the Bruen decision," Pucino said.
While the court takes its time to clarify its decisions, some state legislators are taking aim at the court. A number of Democratic state legislators have endorsed some version of court reform, including adding seats to the court, to counter the hard right turn the court has taken.
"This campaign for court reform really helped me put words together around how the court's decisions have negatively impacted what it is like to be a state legislator right now," Mulvaney-Stanak said.
Mulvaney-Stanak and Morgan announced their support for court reform this spring on a bus tour organized by the court reform group Just Majority.
"As an attorney, I default to providing a great amount of deference to the court," Morgan said. "But at this time, it's hard to do so."